Tales from the Isle of Wight 2017
The Year 6 Residential 2017
Day 1
What a glorious start to the week: the weather at 6:15am was bright and the children (and staff thankfully) arrived in good spirits. Humpty Dumpty and Bungle (our annual coach drivers) navigated the road up to the school in their usual skilled manner and loaded the coaches in their efficient ways. As we left the school gates, it was nice to see smiling parents waving us on our way.
The M25 was traffic free (yes, a shocker!) which allowed us to make a really good run down to Portsmouth as we hardly stopped at all. The children amused themselves with singing along to the tunes of Humpty FM by adapting the Black Eyed Peas song "Tonight's gonna be a good night" to "this weeks gonna be a good week" and joke telling. The favourite on Coach A being "what do you call a girl with one leg?" "Eileen!" On coach B, everyone sung their hearts out to "Let it go!" but unfortunately one child did quite literally let it go when they saw their breakfast again in a bucket. No need to worry though as they have been right as rain since. The children were pleased when they found out that there was A toilet on board the coach. However, the children were concerned when a boy did have to use "THE facility" because several cries of "he's gone to the girls' one" rippled throughout the coach. It was only the staff who could comprehend the malfunction of the sign with only half lighting up so some children might be crossing their legs for the week when on a coach.
The sun continued to shine at Robin Hill Country Park. The children thoroughly enjoyed going on the Colossus boat, running quickly through the maze, climbing on various climbing frames, exploring the woodland area, getting soaked on the splash attack and screaming when watching the 4D cinema. Staff were unaware of the decibel level the children could reach on Colossus and the 4D cinema so this will need to be added to the risk assessment next year.
Quotes from the children throughout the afternoon have included:
I wish I could live on the Isle of Wight; it's the best place ever.
This is so much fun; it's an amazing experience
If this is the first day, wow, what will the rest be like?
Quotes from the staff throughout the afternoon have included:
Have you put on suncream?
Put your hat on.
Yes, we can go on it again (smile, smile, cough, cough)
Quotes from the coach drivers have included:
Brexit has made passport control tighter so please have them in your hands when we enter the ferry port.
Do you know what the language of the Isle of Wight is? (FYI, the word "Wight"is said before any greeting:Wight thank you, Wight hello, Wight ok).
Upon arrival at PGL we were warmly greeted by our groupies Red and Ben. They helped unload the coaches and showed the children to their accommodation. After a quick settling in period, we headed to the dining hall. There children enjoyed bangers and mash or curry and rice. All seemed extremely happy with the choice and one child even said "cor this is like the Harvester salad bar".
The children have remained in good spirits throughout the day. They have remembered their Woodlands manners on numerous occasions and are excited about the week ahead.
Wight for now. Wight again tomorrow. Wight comment below if you wish.

Day 2
The early mornings have continued with children waking up at 4:30am, 5am and 6am. Some thankfully did make the right decision and go back to sleep whilst others chatted in their cabins. One lucky girl claims to have had over 9 hours of sleep which is rather baffling as the children went to sleep at 10:30pm (at the very earliest) and were up certainly no later than 6:30am. (Time differences is now on the schedule for maths lessons in term 6).
The first port of call this morning was breakfast. Despite the power cut, eating in the dark was quite fun and children enjoyed plates of bacon and hash browns and bowls of cereals. This set the children up well for their morning activities.
The morning started with different groups zip wiring, firing bows on archery, orienteering around the PGL site, climbing up various apparatus and scoring goals on aeroball. After a quick water stop and fruit break (apples, bananas and tangerines were consumed in abundance), the children's energy levels were topped up and more challenges were met with great enthusiasm. Some children have been hesitant about going outside their comfort zones but with encouragement from Woodlands staff they have taken part and achieved what they thought would be the impossible. Fantastic growth mindset in action!
Lunch was a welcome sight for many. Jacket potatoes, sausage rolls and salad were enjoyed by all. Enjoyed by one child in particular as he had 4 large sausage rolls whilst another child coated their salad leaves and cucumber in tomato ketchup.
The sun came out in the afternoon as we headed to another two action packed, fun-filled activities. It was fantastic that the positivity continued into the afternoon and when moments of doubt did creep in, encouraging words from their peers were spoken and comparisons were sought:"This is hard but if Mrs X was here it would be more like army training." It really has been lovely to share these personal moments with the children and see such broad, proud smiles on their faces.
However, the sun did go in and the sky threatened a thunderstorm. Minds were clearly affected because one child climbed the trapeze and claimed "I can see my house from here!" Another needed clarification on a direction "Is it that left (pointing to the left) or is it that left (pointing to the right)?" and another was just totally confused:"What's the difference between going backwards and forwards?" As well as the children encouraging each other verbally, they were also helping and belaying with the ropes. Once finished one girl asked: "Can I undo the Caribbean now?" (Meaning the carabiner). This wouldn't have surely come from a Geography teacher's daughter, would it....?
The children have enjoyed their dinner of fish and chips and apple crumble. One boy achieved his goal of "clearing his entire plate" and others enjoyed the opportunity of smothering ketchup over anything (again).
Whilst the children have enjoyed an evening of wacky races some of the Woodlands staff summoned up the courage for a room inspection. Well, courage was clearly not enough based on the results. Utter mess just doesn't come close!!!

The children have challenged themselves this week so I wonder if any parent, brother, sister or relative can identify their year 6 pupil from any of the photos below?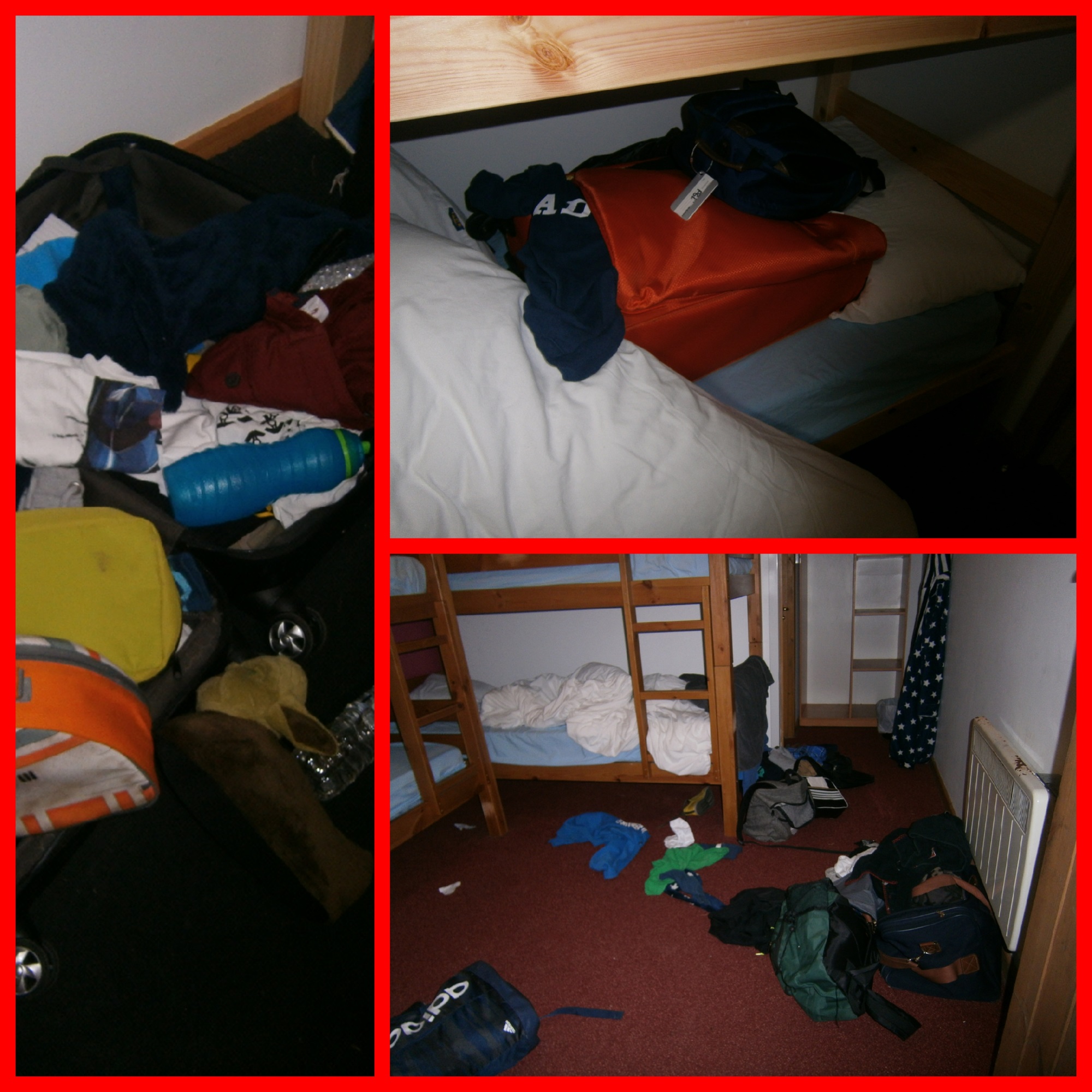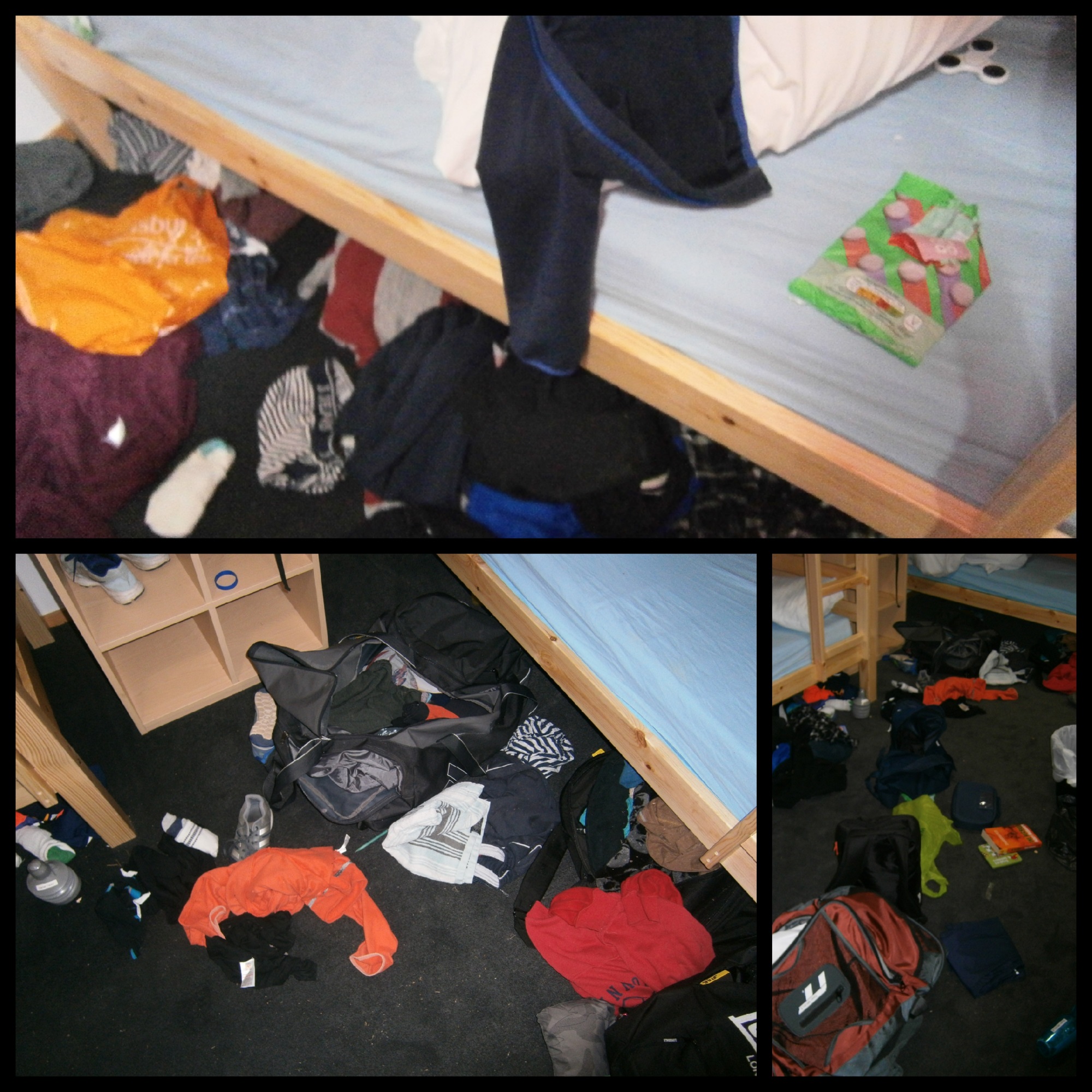 We are venturing out of Little Canada tomorrow and will be heading to the Needles. If you want to test your number skills and sit and count 85 orange hats then click here to access a live webcam. We look forward to writing about it tomorrow.
Wight night for now.

Day 3
Today was the day when year 6 explored the Island so it was yet another early morning rise. Particularly early for one room when they mistakenly set their alarm for 5am instead of 6am!
Upon arrival at the dining hall, the breakfast menu was read out. Whilst the children cheered to the announcement of "sausages and baked beans," the most experienced member of staff on the trip cried, "Why does it always happen! It's always baked beans on coach day." However, in their positive manner another member of staff consoled the distressed member by saying "it's ok, we'll just get to the Needles quicker." Many children looked very baffled when they misinterpreted 'quorn' to be prawn' so children looked to the familiar sight of cereal instead. Eating habits in the dining hall ranged from the healthy breakfast of cereal and 2 apples to the piled high plate of food and one slice of toast coated in a mere 3 portions of jam.
After collecting our named packed lunches, we set off on the drive across the Island to The Needles. The children successfully walked down all the steps to board their second boat of the week. The children thoroughly enjoyed spotting caves and admiring the chalk face cliffs. Parents and families will be pleased to know that all the children did make it back up all the steps despite several claiming that they were "dying from exhaustion." It was then time to empty their wallets in the souvenirs shops: "This is what I've been waiting for all week." If anyone is expecting a present back home then expectations need to be lowered. Children proudly showed off their Needles t-shirts, strutted around modelling their new fan they had attached to their orange cap and brought the biggest ice cream they could with the money they had left over.
After watching the glass demo, we then got back on the coaches and headed to the first beach of the afternoon at Freshwater Bay. There the children relished the opportunity to paddle in the sea. Even though cabin showers might have been dry when inspecting rooms last night, the teachers' positivity continued by almost saying in unison "at least their feet have been cleaned this week". When we boarded the coach so we could go to the final beach of the day, one child's comment of "Can you wind the windows down please?" left a bewildered Humpty looking at his coach in confusion. The journey across the island to the beach was spectacular with many thatched cottages seen and coastal views admired. The children were entertained by Mr Adams as they fell for his numerous "true" island facts whilst the staff were entertained by Mrs Stone's commentary. When we finally made it to the beach one child exclaimed, "Why is the beach wet?"
On the "wet" beach children amused themselves by burying each other in the sand, playing football, drawing in the sand and splashing around in the water. The beach provided a few more entertaining quotes:
I've found a shark's tooth (child picking up remains of a 2cm shell)
Can we eat this seaweed like at the Chinese?
As the children boarded the coaches for the journey home, they had to pass through the sand security patrol of Bungle and Humpty. Several children looked worried when they were told that the beach was a conservation zone so every grain of sand had to be taken back and returned. As a result, one girl quickly emptied her pockets and tried to quickly get rid of the two handfuls of sand from them.
(We have encouraged the wearing of new, clean t-shirts but please name and shame any and staff will suitably address this issue!).
Thank you to Bungle and Humpty for taking us around the Island and for so skilfully reversing their coaches into the many car parks during the day. The children showed their appreciation by saying "Wight thank you" as they left. (After saying "Wight ok" 40+ times, this joke might now be backfiring on them).
The children have had a brilliant day and have behaved very well. Thank you for all your comments, they are amusing us!

Day 4
For the fourth day this week we woke to clear blue skies and even though there were lots of tired faces, the children managed to stumble out of their cabins as soon as the word "breakfast" was mentioned. Children have grown to love the cooked breakfast option and are becoming more adventurous with their food choices. One child took it upon himself to try Tabasco on his porridge. Let's just say after a lot of opened mouth breathing and panting, he won't be repeating the experiment but will be sticking to putting every condiment going on his meal.
Mrs Priestley touched base with us today but instead of a text message a phone call was made.... but for a good reason. She just had to share the email that was sent to school by a member of the public:
Hello
Yesterday my husband and I were visiting the Needles attraction and decided to take a boat trip out to the Needles. On the boat were a group of children from your school.
We provided some feedback to one of the adults supervising the trip but I also wanted to contact you.
The children were the most well behaved children we have seen in a long time and it was a pleasure to share the boat trip with them. They did the school credit.

Kind regards
Helen
Dragon boat racing was the first activity of the day. One child was so fully prepared that he returned to his cabin to get his Wellington boats ready to battle the dragon. However, with no dragons in sight he just got completely soaked. Children have finally listened to the staff about taking responsibility for their medication however, some too diligent following the conversation below.
Child: "Will we be going on the water?"
Teacher: "Yes, boats tend to go on the water."
Child: "Will I need to take my travel pills for that?"
Once kitted out in buoyancy vests, the children practised chanting "we were born ready!" whenever they were asked "are you ready?" Excitement filled the air as well as nerves.
Teacher:" anyone scared of dragons?"
Children: "no"
Teacher: "dragons pop up out of the water occasionally so you must be careful"
Child: "do they breathe fire on you?"
Teacher:" not on Thursdays"
Everyone survived the racing and even though some got a little wet so many children said "that's the best activity ever." However, it was hard to tell who was more competitive the children or the staff. The other mornings activities was yet another time whereby children showed off their teamwork skills. More words of encouragement were given and children conquered their fears on abseiling towers. Children were spurred on and were on cloud nine when they said "I never thought I'd be able to do that!"
After lunch, the children put on their harnesses again and enjoyed abseiling, climbing and working their way through the challenge course. The children entertained the teachers with their amusing concentration faces and determination when on wobbling ropes. One child, however, was very confused about the ropes they were attached to:
Instructor: grab THE rope
Child: which one?
Instructor: the only rope
Child: where?
Instructor: the one right in front of you
After a dinner of pasta bolognese and chocolate cupcakes, we were ready to head to the beach for the final time this week. Upon arrival, the children were full of questions:
Where's the water gone?
Is this a desert?
Is that the river we crossed when we came to the Isle of Wight?
Are we still in England?
Conservation was still at the forefront of the children's minds when one child asked:"Is this one of those beaches that you can't take sand from?" With a serious look, the teacher nodded but said "you can take a shell though." With delight, that child went off to find her treasure.
The evening sunshine was perfect. The children enjoyed finding shells and shrimps, making trails in the sand, running freely on the beach, playing football and rounders and watching the hovercraft go by.
Our thanks go to Bungle and Humpty again because they very kindly gave up their evening for the children to enjoy their last evening of such a fantastic week. Before the children boarded the coach Bungle and Humpty lined them up in two lines and led the infamous Ryde Sand Dance. All children danced their hearts out and shook the sand off "Wight styley".
The children have entertained the staff throughout the day but the final quote goes to Mr Adams who said tongue in cheek: "I'm sure after over 2 hours of running around the beach they will be sleep in no time." Now this is one positive staff comment too far.

Day 5
Packing began at 6:45am this morning as it was departure day! Children leave the Island being able to sort laundry and pack their own bags. However, no promises can be made as to whether or not they actually have their own belongings, especially members of Cabin 5 (the "Ugly" cabin).
The children have grown in confidence over the week and the belayers could barely keep up with the climbers as children rocketed up towers for the final time today. Children have recognised their own achievements as many commented about how far they got to at the start of the week compared to the end of the week. What a fantastic achievement for everyone. The mornings activities once again brought out the great Woodlands spirit in everyone as spontaneous rounds of applause were given when children overcame their fears.
Lunch was eaten in record breaking time as we were keen to make the ferry. The ride to the ferry was hassle free and we set sail on time. Minds turned to home as children discussed what they were looking forward to and what they wanted to tell their families about from PGL.
Humpty and Bungle got everyone home safely and the film they put on was perfect peaceful entertainment for the children. The M25 was, once again, very kind to us and we even managed to return earlier than planned.
It has been an eventful and jam packed week. We are confident that the children have made memories to last a life time and will look back fondly with the experiences they have had. Staff have made lifetime memories too and will miss several things about their PGL experience.
Miss Ridger knows that the staff are going to miss the daily "anything to blog about?" question but personally the memory of answering the "occasional" question of 'when are we....? Are we...? and what time...?" has left a lasting scar on her.
Mrs Stone is going to miss holding doors open in A&E for teachers and members of the public.
Mrs Anacleto has added to her skill set because she leaves the Island as a skilful negotiator. She will miss asking for more bottles of water in the dining hall due to children losing or accidentally breaking them.
Miss Newman is worried that her sense of smell might now be damaged and will miss saying "woah, open a window, there's such a pungent smell in here" at lights out time.
Mrs Brooks is going to miss wearing a sweaty helmet.
Mrs Timms is going to miss adjusting harnesses on children and having her hair swished by children every time they pass her.
Miss Powell is looking forward to a quiet nights sleep and will miss her room mate's snoring.
Mr Adams is going to miss playing football and doing 27,000 steps a day.
Mr Stokes is going to miss sounding like a parrot by constantly counting to the same wrong number when counting in members of his group.
Miss Gould will miss calling out "shoe laces" whenever children pass her.
Mrs Jennings leaves the Island with stronger arm muscles and is looking forward to walking through doorways normally rather than performing some flexible arm/body movement with her rucksack and first aid kit.
Now for the Oscar ceremony speech part of the blog.
Thank you to Red and Ben for their energy and enthusiasm during the week. They were great groupies who met all of our requests and last minute decision changes with smiles.
A big thank you to Bungle and Humpty for yet another year of great banter and fun. Even though their gluing skills might be iffy, their little wind up jokes with the children have proved very entertaining. They have been very generous with their time and their generosity kindly extended to the buying of treats for the teachers which was a lovely surprise. We hope they got back to Norfolk al'Wight' as the Dartford Crossing was living up to its Bank Holiday get away reputation.
An absolute massive thank you all the Woodlands staff who came on the trip. They have worked exceptionally hard. They have gone above and beyond at various points during the week and have never complained about playing another game of football, administering first aid in the late hours of the evening or for being on their feet for over 16 hours a day. They have pushed many children to go further than they would ever expect and have encouraged, comforted and laughed with children despite energy levels feeling low at times. Well done one and all.
Finally, thank you to anyone who has kindly left a comment on this blog and named and shamed children! Have a restful half term everyone.