Mid Summer Read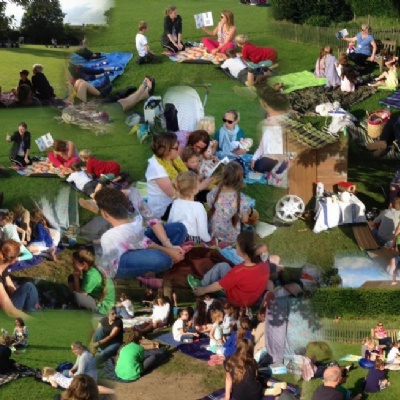 Children and adults gathered on the school field to listen to an array of stories which were read aloud by staff at Woodlands. Staff hid in tents, sheltered under trees and came armed with colourful rugs for the children to sit on whilst they read stories to the children (and adults!) which they may not have heard before.
Thank you to all who came and left us some lovely comments. So far those comments include:
Midsummer Night's Read is quite possibly my favourite social event. A huge thank you to ALL the staff who participated so warmly
It has inspired me to read new and different books
Fantastic! One hour is not enough
I liked the teachers reading to me and I'm inspired to be a teacher and read to other people
What a brilliant hour of entertainment ( for all ages) – Thoroughly enjoyable
Fantastic – a lovely family time '. Thank YOU for giving up your time
I listened to different books I haven't read
It was a very funny story , my favourite bit was when Mrs Twit flew into the sky tied to balloons – Mrs Stone is brilliant – she read the WHOLE book !
Brilliant , but not long enough
A really fun time
It was brilliant – full of fantasy and fun > I loved Miss Pope's story
It was absolutely amazing – I had the best time in my life! Thank you.
I loved how Mrs Brown did Sophia Sofa and the TVs . I loved it – Thank you for putting it on
Thank you teachers for organising this amazing event
I thought the reading was great. I'm very excited about the Christmas read and next summer . Thank you to all the teachers that put in all their effort into making it a great time.
We loved it – entertained us all – even Toby ( 2 ½)
It was amazing! Thank you to all the teachers that helped . I didn't get to go around all of them – but I can easily guess that they were all EPIC!
Fantastic way to spend our evening – thank you to all. We particularly enjoyed 'The Dreamcatcher' by Mrs Newsome- especially when the crows flew past
I loved it! It was my first time here and with all my friends it was amazing. I wish I could do this again . I loved the book and now really want to read it myself. Thank you so much
If you did attend, then please do leave more comments below.
No comments have been left yet.