Year 2
Welcome to the class page of Year 2
2 Hazel, 2 Juniper and 2 Willow
2 Hazel are taught by Miss E Mace, supported by Ms Savidge and Ms Glasscoe.
2 Juniper are taught by Mrs E Challis and Mrs J Howe, supported by Ms Stockdale.
2 Willow are taught by Miss M Littlejohn, supported by Mrs Hobden.
Please scroll down this page for our update from the classrooms and other information.
Homework
All homework will be handed out on a Friday and is due back by Tuesday.
Spellings will go out on a Friday and be tested on the following Friday. Your children should have their spelling words in their homework folders. If they have not appeared please speak to your child's class teacher. The spelling lists can also be found on this page if you scroll down.
The rota for Speaking and Listening will be arriving home via book bags but we have also attached it below.
General Information
Uniform - Please make sure that all school uniform and PE kit is clearly labelled as it helps the children to identify their own belongings. PE kit should be supplemented by warm joggers and sweatshirts in colder months. Please remind your child to bring a coat every day in the winter months and also please encourage your child to bring a named water bottle to school every day.
Medication - Please let the school and your child's class teacher know if your child has any condition requiring medication, including allergies or asthma. If your child needs to be on a course of medication then please complete the relevant form which is kept in the school office.
Update from the classrooms
Term Three
13.02.20
What a lot we have learned about the Great fire of London! We are now experts on what happened, why the fire spread so quickly, how people escaped and why London was rebuilt differently. We have summarised some of our knowledge in a fantastic diary entry. Do have a look in our History books when you get the opportunity.
We have got so much better at telling the time using an analogue clock. Thank you for your help with practising this at home. We have also been looking at both 2D and 3D shapes recently and learning about edges, vertices and faces (some of us even made them smiley ones).
In Science we have thought about keeping ourselves and those around us healthy - very opportune in the current climate. We talked about hygiene and the importance of thorough hand washing, keeping fit and healthy eating. The children loved seeing which exercise made their heart beat the fastest and sorting food into 'eat lots', 'eat sometimes' and 'save for a treat' categories. We were a bit shocked at how much sugar is in tomato ketchup!
We look forward to seeing the children after the holiday (if reading this on Thursday 13th Feb please send your children to school tomorrow) when we will be starting our new topic about 'Food for Thought'. The Speaking and Listening rota should come home in homework folders on 14th Feb but is also below (scroll down a long way). Have a great week!
28.01.20
Last week each class was treated to an amazing workshop from Oliver from "Steps in Time". He acted out numerous parts from The Great Fire of London and astonished us with his incredibly quick costume changes. Oliver dressed up as Samuel Pepys, Thomas Farriner and many more characters, his voices were incredible. The children particularly loved joining in with the fire fighting and being asked to be bakers. We thought we knew so much about The Great Fire of London but now we know even more. We have written some wonderful recounts of what happened.
Congratulations to several children from Year 2 who took part in a KS1 agility day at The Angel Centre. They had an amazing time and represented the school superbly. We are very proud to announce that they finished 4th out of 12 schools. Well done.
This week and next week we are learning about time in maths and would be very grateful if you could spend any time going over quarter to and past, half past, and the five minute intervals. Maybe you could surprise you child by asking them the time during the day. Thank you.
Let's hope we start to see some sun shine.
08.01.20
Welcome back to Term 3. We all hope you had a wonderful Christmas and enjoyed some quality time at home.
We have an exciting time planned and are really looking forward to learning about "The Great Fire of London". This is a brilliant topic and is one that really excites the children. We will be lucky enough to welcome "Steps in Time (Oliver)"on Friday 24th January and he will be acting out "The Great Fire of London". As you will know from last year he generates incredible enthusiasm for the topic and the children gain so much subject knowledge. We will be basing our dance and drama lessons around this theme.
We are also reading the book "The Owl who is afraid of the Dark". Today we had a fantastic lesson introducing this book where the children had to help the Mummy owl find her baby who had gone missing. They had to solve a sequence of clues which were hidden around the classroom and outside area. It was a really stimulating session that created a great deal of interest. We have started reading this high quality text and look forward to some interesting lessons ahead.
Term Two
17.12.19
We all wish you a very Happy Christmas!
There are no spellings for the first week of Term Three but our Speaking and Listening rota is attached below.
See you in 2020 (but if you are reading this on 17.12.19 please don't forget to come to school tomorrow)!
13.12.19
We hope you enjoyed our Christmas production - we loved sharing it with you.
As well as being budding thespians we have also been working very hard in all our other work too. In English we have written our own journey story and in Maths we have been measuring using rulers and scales. In our Australia topic we have illustrated the story of, 'How the koala got his stumpy tale' using aboriginal art. The finished masterpieces are truly fabulous - do have a peek if you are passing by. On our RE day we learned about, you guessed it, Christmas and why Christians believe that it is important.
28.11.19
We are getting very excited about our Christmas production, songs are being sung, words are being practised and dances are being learned. We are sure that you have the dates of our production (Thursday 12th and Friday 13th December) firmly inked onto your calendars and we can't wait to share our show with you!
We are having an amazing time learning about Australia - even the teachers are learning new things! We know why people tend to live on the coast in Australia and understand about the climate. We have thought about the differences between rural and urban life. We have learned lots of new geographical vocabulary. Do have a look at our display next time you are in the hall. You might be surprised at some of the words we have learned! In Art we have been making our own Aboriginal inspired masterpiece. We are very clever at making decorations using tiny dots and are working collaboratively to produce a big picture.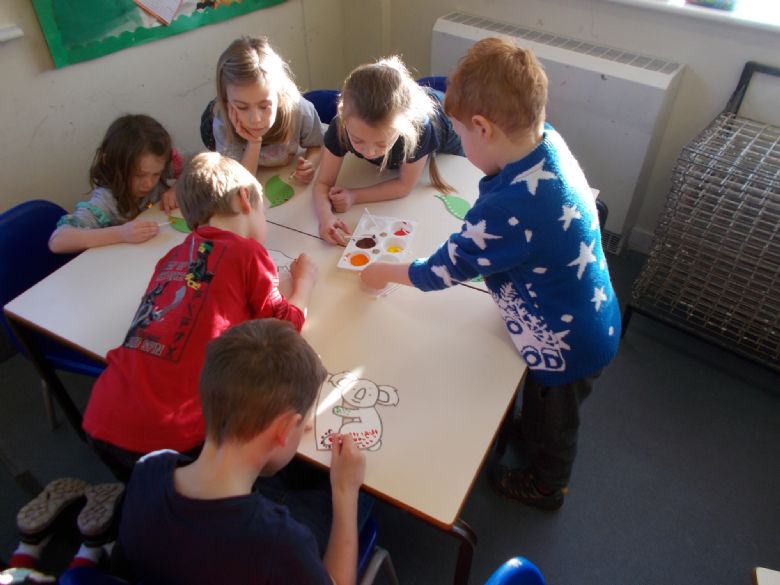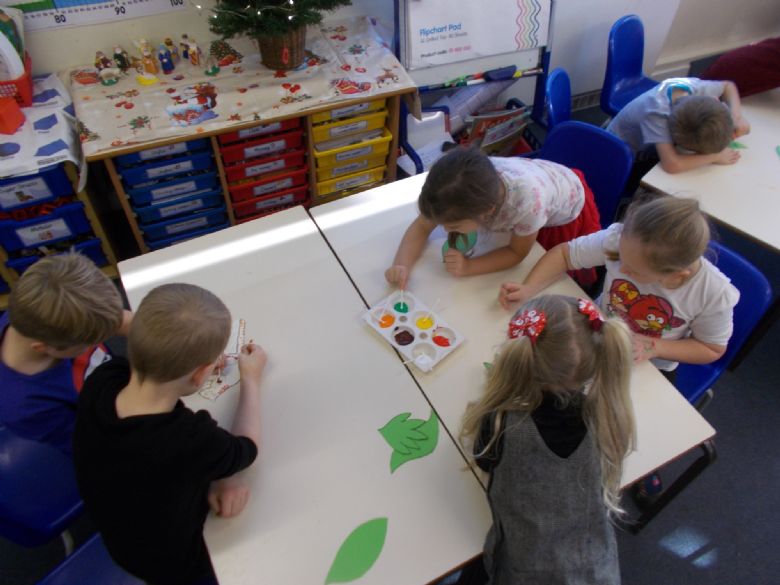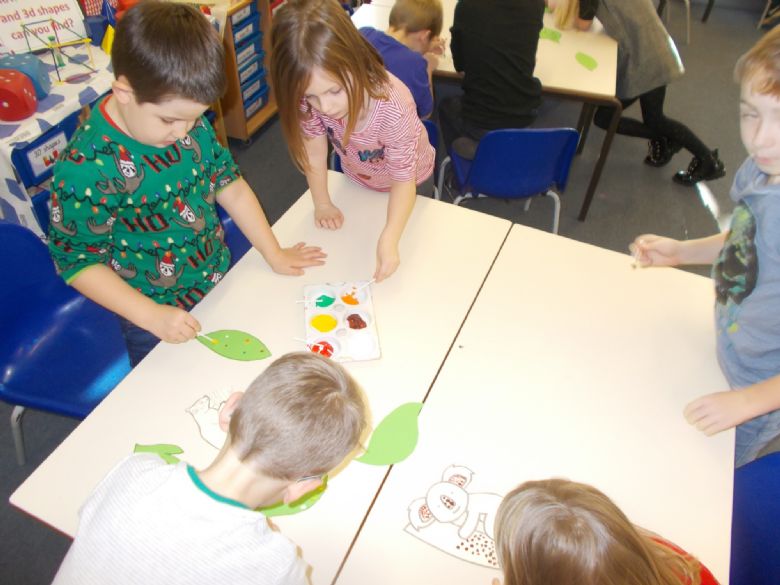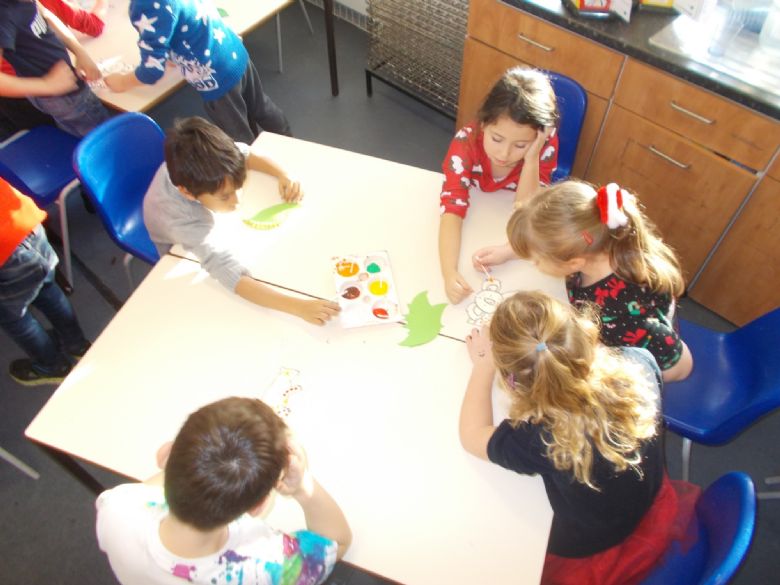 Artists in creative mode!
1.11.19
It is super to see the children looking rested after their school holiday and we have enjoyed hearing about the adventures you all had!
We have been busy learning new things this week. In English we have started reading and learning a new story. Your child should be able to tell you what it is and in a week or so they may be able to share the signs we use to help us remember it. They came up with great ideas. In Maths we are multiplying (by using arrays and repeated addition) and dividing (by using sharing and repeated subtraction). Our main topic this term is Australia. We are looking at maps and working out Australia is located and how it is similar and different to the UK. We have started looking at Aboriginal art and loved decoding a picture to look for the special signs hidden within it. We enjoyed seeing and hearing a didgeridoo in music and are learning to play the ocarina. Wow - what a start to the term!
Term One
Welcome back to Woodlands! The Year Two team are looking forward to getting to know you all this year.
It was lovely to meet so many parents at our recent open evening. We have attached the powerpoint below. If you would like to chat to one of us please do speak to us after school. Alternatively we are available on a Tuesday afternoon from 3pm if it is easier to come while your child is in school.
10.10.19
What an exciting time we had last week when the Astrodome visited! We crept through the door into a world of space, stars and planets. We learned about day and night, seasons and years and the phases of the moon. The earth shrank behind us as we zoomed off amongst the stars and landed on the moon. We travelled past many planets and visited ice caverns and volcanoes. We were fascinated by stars being born and dying and were even lucky enough to see a meteor shower!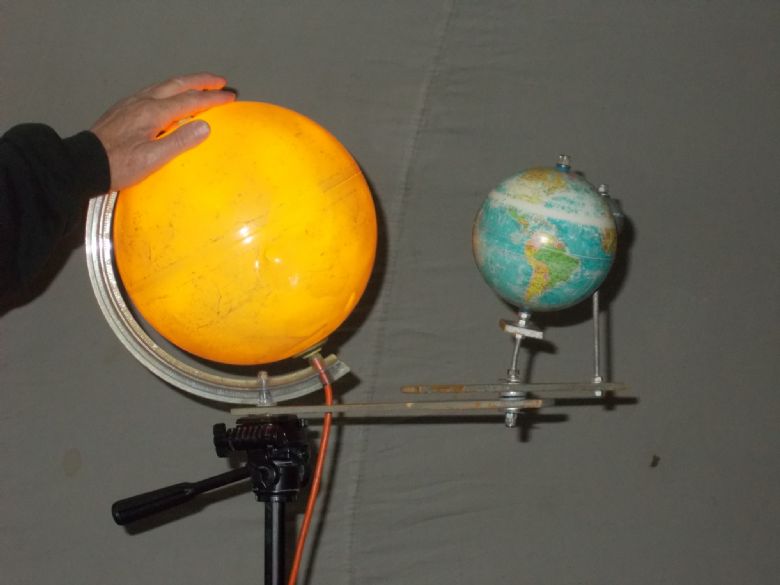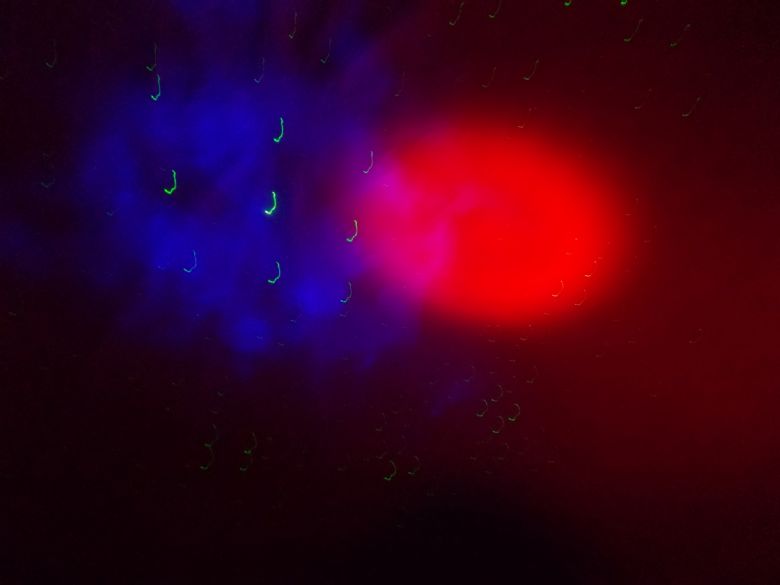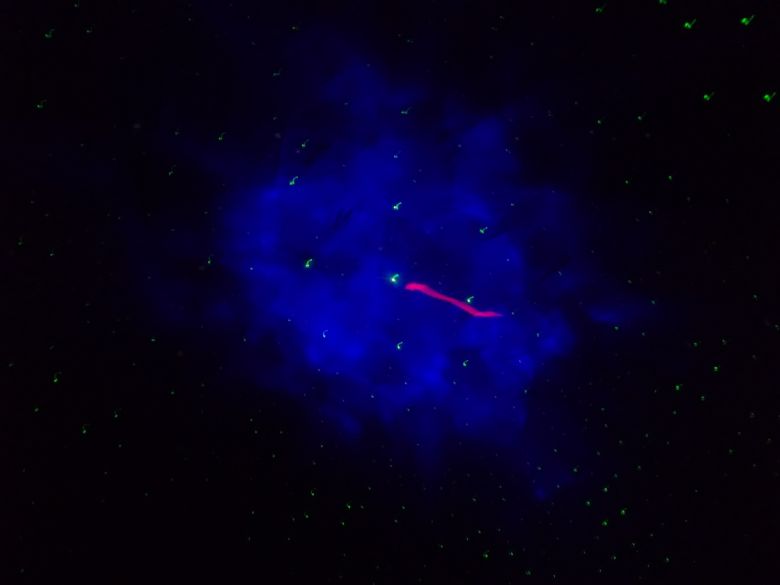 Back in the classroom we have been writing our own version of 'Bob's best friend'. We have been thinking hard about who writing is for and how to make our writing both easy to read and exciting. We have been learning about coins and money and data handling. We love making tally charts and displaying data in different ways. We have thought a lot about parachutes and the sort of material they could be made from, the shape they could be, the way we could attach the suspension lines to the canopy and the best size. Our parachutes are coming along well, we have made them but are waiting to test them next week. Watch this space!
24.09.19
Another very busy two weeks have passed by. Last week we had the pleasure of being visited by Fantastic Fred. During the 30 minute performance, Fantastic Fred explained to Year 2 simple and memorable ways to look after their mental health - with the letters in Fred's name representing the areas of educational focus:
Food - Eating the right foods
Rest - Getting enough sleep
Exercise - Being active
Digital - Managing time spent online
Everyone really enjoyed the fun and humorous way these issues were bought to life and it certainly gave us all something to think about. In English we have been reading "Bob's best friend ever" by Simon Bartram. It is a story all about a spaceman who is quite lonely. We have hot seated Bob and going to write him some letters. This book ties in beautifully with our topic on Space and we have been thrilled to see the wonderful Speaking and Listening that each class has been bringing in. We have been learning so much and have developed a much greater understanding of what a mammoth task it was to get someone to the moon. We can't wait for our visit from the Astrodome.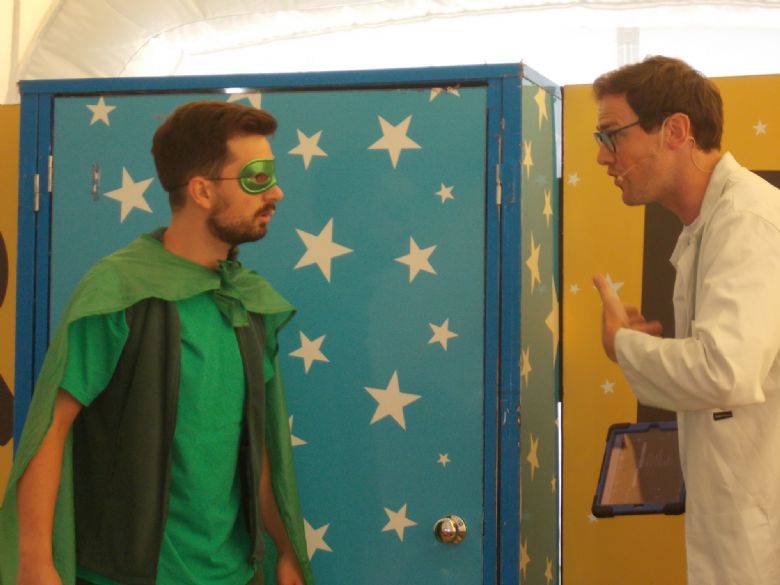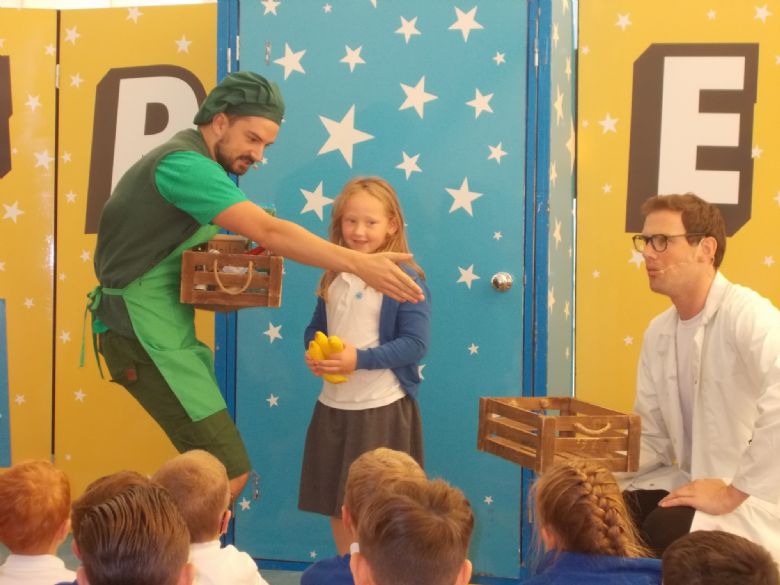 12.09.19 - We have had a very busy start to the term. We are loving our new 'Man on the Moon' topic and even had a 'visit' from Neil Armstrong to answer some of our questions, well with a little bit of help from our teachers! We have been learning about staying safe online and what we shouldn't be sharing with people we might meet when we are playing online games. In Science we have been reminding ourselves about materials. We thought about what the different things in our classroom were made of and how we might categorise them. In Maths we have been recapping addition and subtraction along with place value. We are challenging ourselves with some really tricky problems. In English we are making sure that we always use our neatest handwriting and remembering to use the correct punctuation in our sentences. We have been brushing up on our French and are enjoying music with our new music teacher and PE with Mr Levett and our class teachers. We are enjoyng year 2!