Year 2
Welcome to the class page of Year 2
2 Cedar, 2 Elm and 2 Palm
2 Cedar are taught by Mrs E Challis and Mrs J Howe, supported by Mrs Makey, Mrs Saunders and Ms Savidge.
2 Elm are taught by Mrs S Buxton and Mrs L Stokes, supported by Mrs Spurle.
2 Palm are taught by Miss M Littlejohn, supported by Mrs Hobden and Ms Hards.
Homework
All homework will be handed out on a Friday and is due back by Tuesday.
Spellings will go out on a Friday and be tested on the following Friday. Your children should have their spelling words in their homework folders. We will try to update the weekly spelling lists on here too. Please see below.
General Information
Uniform - Please make sure that all school uniform and PE kit is clearly labelled as it helps the children to identify their own belongings. PE kit should be supplemented by warm joggers and sweatshirts in colder months. Please remind your child to bring a coat every day in the winter months and also please encourage your child to bring a named water bottle to school every day.
Medication - Please let the school and your child's class teacher know if your child has any condition requiring medication, including allergies or asthma. If your child needs to be on a course of medication then please complete the relevant form which is kept in the school office.
Meet the Teacher evening
Thank you for coming to our 'Meet the Teacher' evening. We hope you found the information useful. The powerpoint that we used has been uploaded below. By the end of the year we aim for all children ot be able to read, write and spell the common exception words (also uploaded below). If you have any questions your child's class teacher will be happy to help.
Update from the classrooms
11.10.18
What excitement we have had over the past few weeks! We were challenged to make an umbrella fit for the Queen. We spent time looking at umbrellas and identifying how they work. Then we experimented with what sort of material might be good for an umbrella. We decided that it probably needed to be waterproof. We designed our umbrellas and this week we have made and tested them. Some children may have come home slightly soggy as a result but thanks to the splendid weather most of us have steamed off gently!
We have been handling data in Maths and discovered about tally charts, pictograms and bar charts. In English we have been celebrating national poetry day by writing cycling poems. Some of us were even able to make our poems rhyme. In Science we have been planting bulbs. Nothing has happened to them yet even though we have watered them and talked to them. Our teachers have said that we may have to be very patient! We enjoyed our visit to the church on Tuesday morning to celebrate Harvest festival.
27.09.18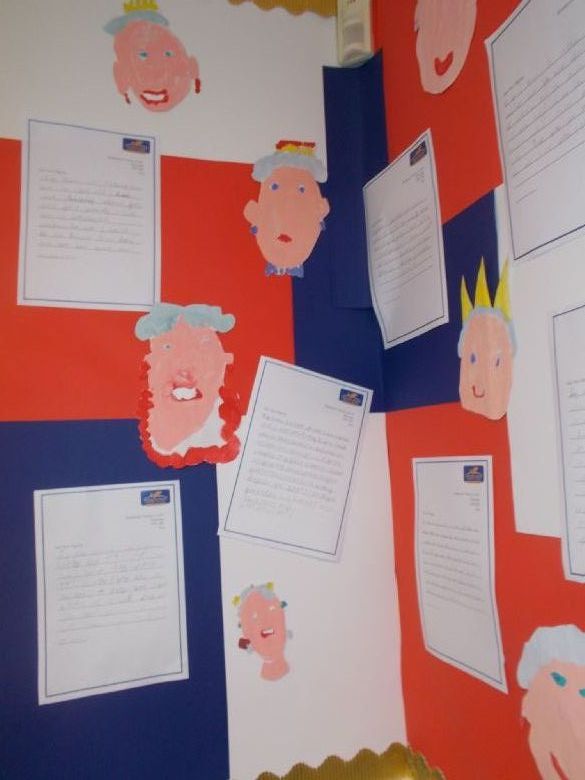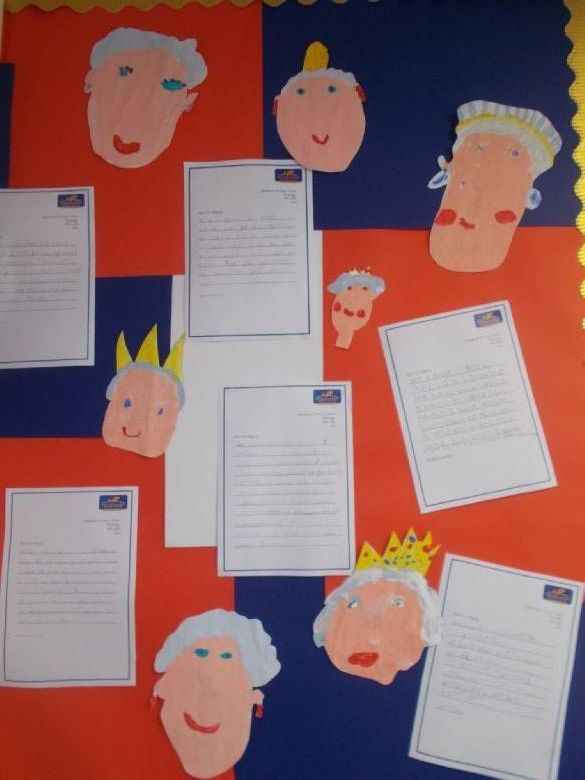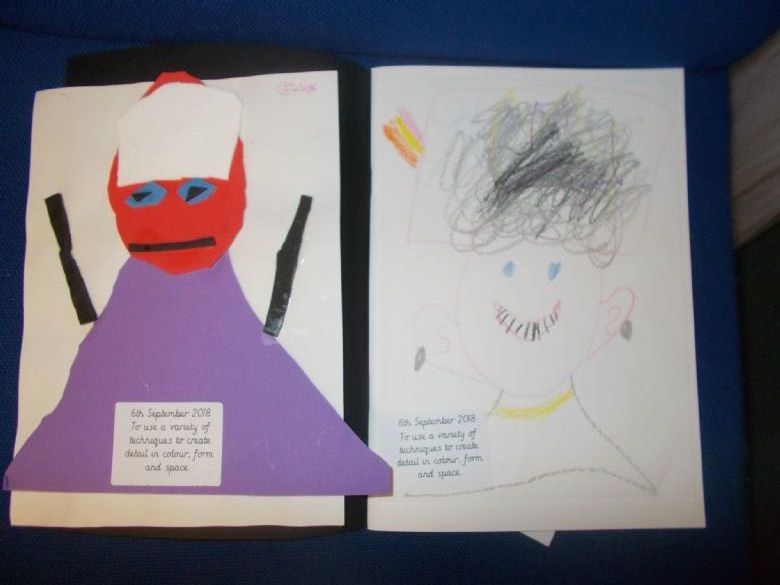 Here are some of our portraits of the Queen. Do pop in to our classrooms to see more of them! We have also thought about questions we would like to ask the Queen. Then we decided to write letters to the Queen and ask our questions. We are hoping for a reply. We will let you know what happens!
In Maths we have been adding and subtracting two digit numbers, using our knowledge of place value to help us. We have also been adding three numbers together. We have had our Times Table Rockstars log in details and some of us have started practising our ten times table.
In Science we are very excited about planting bulbs this week. We can't wait to see what they will grow in to although our teachers say that we will have to wait quite a long time. We are beginning to practise our harvest songs and poem for the service in a few weeks time.
13.09.18
We have had a super start to year 2! In Maths we have been reminding ourselves about place value, how to add and subtract and how to use < and > signs.
In English we have been reminding ourselves how to use full stops and question marks. We have learnt about what an adjective is and how to use it. We have written a character profile of Mr Hoppy from Esio Trot and remembered to use amazing adjectives to both describe his appearance and his personality.
We have started learning about famous people and have created fabulous portraits of the Queen. It has been very interesting when our friends have found out about different famous people and we have enjoyed asking them questions.
We had a very exciting year group PE session when we practised multi-skills on the playground. We learnt how to stand to throw a javelin and vortex, how to dribble a ball, how to skip, how to score a goal, how to balance an egg on a spoon while we travelled over the adventure playground and lots of other fun things.