PE and Sport Premium Funding
For regular updates see our Woodlands Primary School Twitter account or look at the News section on the website.
Our aim for PE at Woodlands
We aim for all pupils leaving Woodlands Primary School to be physically literate and with the knowledge, skills and motivation necessary to equip them for a healthy, active lifestyle and lifelong participation in physical activity and sport.
All children in KS1 and KS2 are provided with 2 hours of curriculum PE time a week, plus opportunities to engage in extra-curricular PE and sport. In addition to this, we encourage active playtimes and active lunchtimes to ensure every child is getting their recommended 60 minutes of activity per day.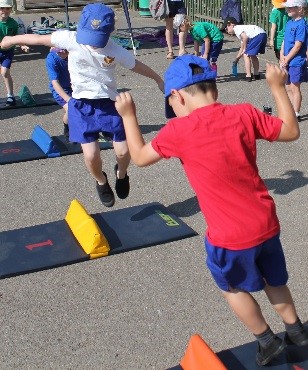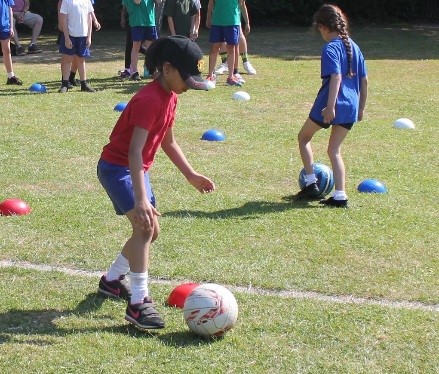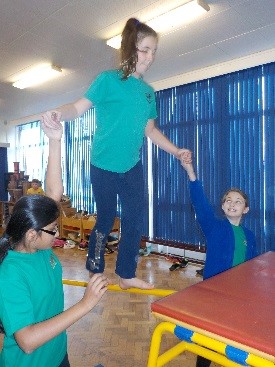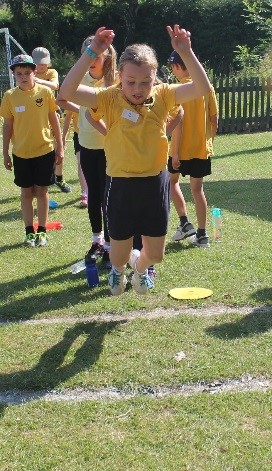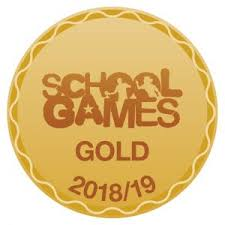 Schools Games Mark
2019-2020 proved another successful year for Woodlands. We have achieved the GOLD mark for the third year running. Thank you to all the staff and children who have made this possible.
What is Sports Premium Funding?
Sports Premium Funding is a Government initiative that aims to enhance and improve the provision of PE and to increase the activity levels of children in primary schools.
The amount of funding each school is allocated depends on the number of children in the school: schools with 17 or more eligible pupils receive £16,000 and an additional payment of £10 per pupil (in Years 1 to 6).
How did we use the Primary Sports Premium Funding in 2019-20?
For the academic year 2019/20, Woodlands Primary School received £21,650 of sports premium funding. This funding allowed us to enhance and increase our sports provision in the school, in spite of the pandemic. For example:
Teachers had CPD in cricket, athletics and gymnastics.
The number of extra-curricular sports clubs increased while school was open, allowing more children to take part in a wider range of sports.
PE and lunchtime equipment was updated and renewed.
Designated sports co-ordinators had time to review, plan and assess for PE.
Children travelled to and competed in sports competitions.
Sports co-ordinators attended PE conferences to develop links and share expertise.
School funded places for children to attend extra-curricular activities.
Balanceability programme for 6 weeks.
Please see the impact evaluation at the bottom of this page for more information on how we spent the money and the effect it had on sport at Woodlands.
How will we use the Primary Sports Premium Funding in 2020-21?
For the academic year 2020/21, Woodlands Primary School will receive £21,680 of Sports Premium Funding. Our action plan for how we will spend the money can be found at the bottom of this page. Our plan focuses on improving the following five areas:
To maintain and increase the engagement of all pupils in regular physical activity
To raise the profile of PE and sport across the school
To increase confidence, knowledge and skills of all staff in teaching PE and sport
To offer a broader experience of a range of sports and activities for all pupils
To increase participation in competitive sport
Extra-curricular Opportunities
Staff at Woodlands offer the following sports clubs: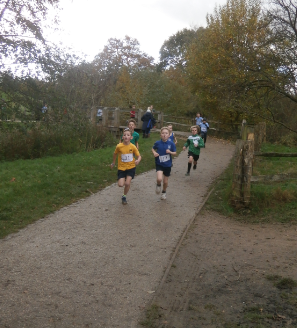 Athletics
Badminton
Basketball
Cross country
Dance
Football (for all years)
Netball
Running for fun
Change 4 Life
Rugby
External staff provide the following clubs:
Cricket
Football (KS1 and KS2)
Gymnastics (KS1 and KS2)
Dance (KS1)
Woodlands also has a dedicated School Sports Organising Crew (SSO Crew) made up of 14 enthusiastic Year 6s and 15 dedicated Year 5 Sports Leaders who wish to increase the profile of sport in the school and get more children involved. They have had specific training to organise and implement lunchtime activities and termly events to get everyone excited! Watch this space!Competitions and Festivals
In 2018– 2019, Woodlands took part in the following intra-school competitions and had a full house competition system during the year.
| | | | |
| --- | --- | --- | --- |
| Athletics | Cricket | Hockey | Rugby League |
| Badminton | Football | Netball | Cross-country |
| Basketball | Handball | Rounders | Whole school sports day! |
Woodlands also attended a record breaking 10 inter-school competitions in the following sports:
Basketball

Handball

Swimming

Cricket

Netball

Tennis

Football

Run4life

Sports Hall Athletics
(Lower and Upper juniors)
Planned events in 2019- 2020:
Run Life - Wednesday 17th October at Dunorlan Park.
Term 2

Term 3

Term 4

Term 5

Term 6

Mixed Basketball (Year 5&6)

Active30 Festival – T. Wells
(Year 3&4)

Sportshall Athletics
(Year 5&6)

Infant Agility
(Year 1&2)

Active30 Festival – Cranbrook
(Year 3&4)

Sportshall Athletics
(Year 3&4)

Badminton
(Year 3-6)

Quicksticks Hockey
(Year 3 – 6)

High5 Netball
(Year 5&6)

Flag Football
(Year 3-6)

Inclusive Mini Tennis
(Year 3&4)

Key Steps Gymnastics
(Year 1-6)

Kwik Cricket
(Year 1-6)

Tri Golf
(Year 3&4)

Handball
(Year 3-6)

Dodgeball
(Year 3-6)

Active30 Festival – Tonbridge
(Year 3&4)

Tag Rugby
(Year 5&6)

Ultimate Frisbee
(Year 3-6)
Recent Events:
Sports Hall Athletics
Pupils show great determination at Year 3-4 Sportshall Athletics Event.
Well done to everyone in Year 3 and 4 that took part in last week's Sportshall Athletics event at the Angel Centre in Tonbridge. In arguably the most competitive competition on the TWKSSP sports calendar, Woodlands finished in a magnificent 3rd place with 24 primary schools taking part across the Tunbridge Wells and Tonbridge districts. Woodlands were in the first of three heats throughout the morning, competing against Claremont, St Matthews and Chiddingstone Primary schools, two of these schools being former champions! The pupils showed incredible determination winning a number of their races on the track and performing exceptionally well in the throwing and jumping events where we made up many points especially in the speed bounce and the vertical jump. We look forward to building on our successes next year but reflect on a great set of results finishing 3rd in the Year 3-4 competition and 2nd in the Year 5-6 competition before Christmas.
Well done to the following pupils that took part for Woodlands:
Boys: Robin, Oliver, Xavier, Ralph, Freddie, Ethan, Ashton, Jack and Oscar
Girls: Lacey, Amelie, Holly, Vivienne, Sofia, Olivia, Joanna, Annabel, Hannah and Chloe.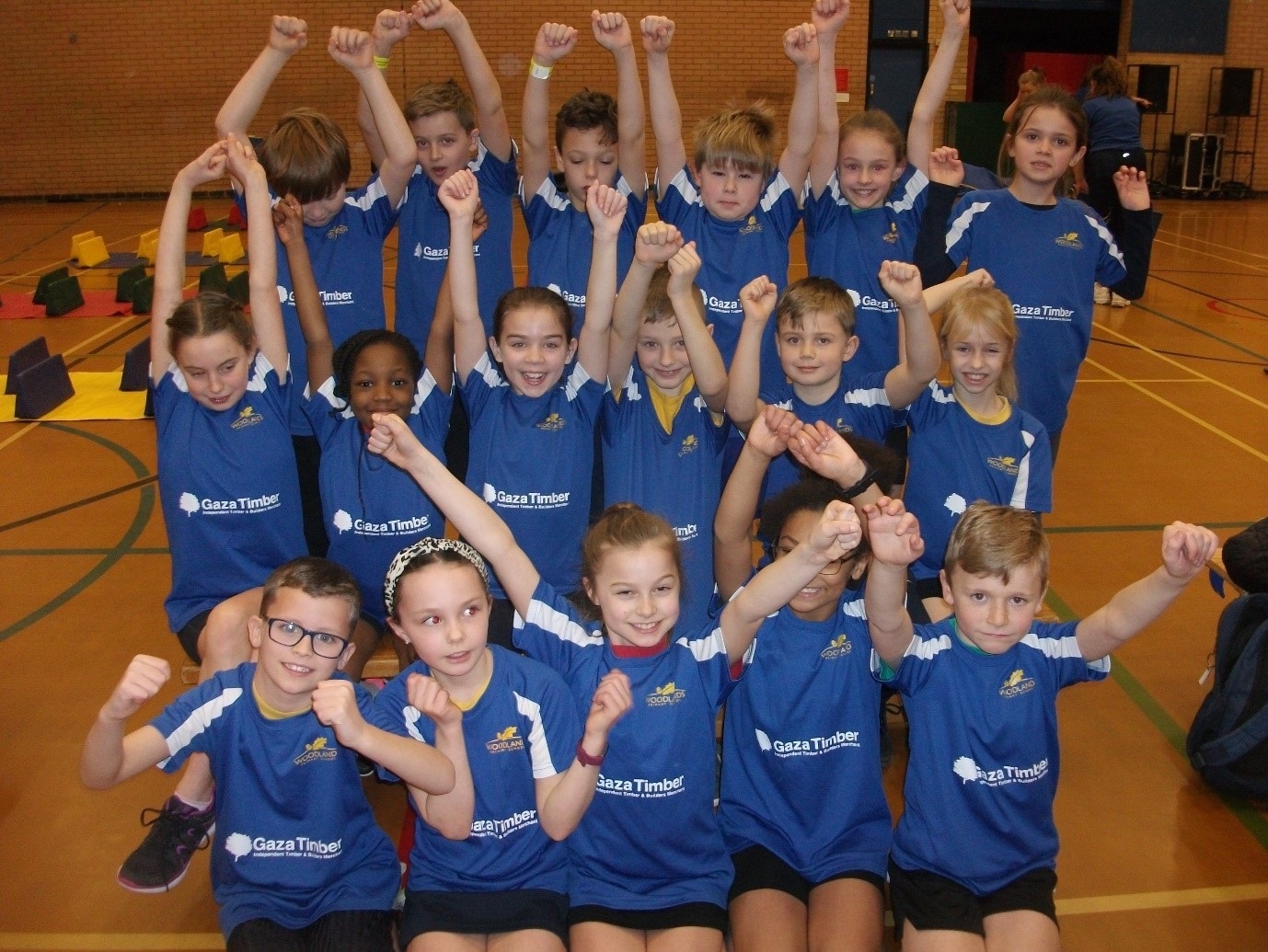 Infant Agility ​​​​
On Thursday 23rd January 2020, Mrs Stone and Mrs Hobden took 10 very excited children from Years 1 and 2 to the Infant Agility Festival, at the Angel Centre in Tonbridge. The children took part in a series of events, demonstrating their balancing, throwing, bowling and jumping skills. There team skills were then put to the test in a number of relay races. The children had an amazing time and represented our school brilliantly, all showing fantastic resilience and a "can do" attitude. This brilliant team spirit led to an amazing score and them finishing in 4th place out of 12 local schools. Well done to all involved.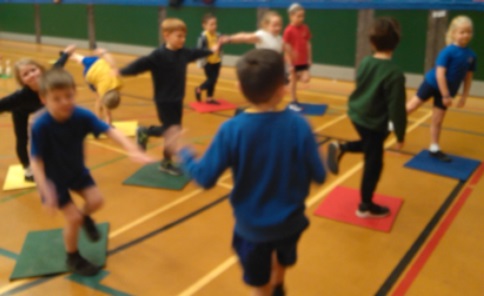 December 2019
PRIMARY SCHOOLS NATIONAL CROSS COUNTRY SELECTION FOR HARRY!
Well done to Harry in Year 5 who recently finished 11th in the Kent Primary Schools Cross Country at Brands Hatch. Harry has recently been selected for the National Primary Schools Cross Country in Leicestershire which will take place in March. Also, narrowly missing selection was Jessica who finished 13th with the top 12 being selected. We look forward to seeing both pupils progress in the coming year and wish them lots of luck with their competitions.
Well done to both pupils on their achievements.
Sportshall Athletics- Year 5 and 6 Angel Centre
The sun was shining for the Woodlands teams at the Sportshall Athletics in the Angel Leisure Centre!
Well done to all the pupils that took part in the recent Sportshall Athletics competition at The Angel Centre. We had some fantastic results with Beau and Harley winning the one lap relay. Elsie, Molly, Ivy and Pamela produced brilliant runs in the Obstacle Relay just finishing second in a very close race. The girls also produced a fantastic display of controlled running in the Over and Under Relay recording second place in a very tight finish from another school.
In the distance events, Jessica, Rosemary, Harry and Harrison ran well judged runs managing third in both events. All the pupils had a go at two field events with notable performances from Oliver in the Javelin, Reuben in the Speed Bounce and Ivy and Isla in the Vertical Jump. In the boys Over and Under Relay, Oliver, William, Reuben and Kai ran a tactical race to finish a superb first, whilst in the final event of the day Beau, Harrison, Harley and Samuel lead home the other schools to win the four by one lap relay. The girls relay team also produced a great team effort with Caitlin, Pamela, Isla and Madeleine finishing in second place.
Overall the Woodlands boys and the girls finished in an incredible 2nd place behind Paddock Wood primary in the Tonbridge area. Well done to all the pupils that to
Fun Run
On Wednesday 17th October 30 children across KS1 and KS2 took part in a Fun Run at Dunorlan Park. They ran a route around the park, competing against schools from the Tonbridge and West Kent Schools Partnership. They had a great morning and one pupil finished 3rd receiving a medal from Tonbridge Athletics Club. We were very proud of all the children that took part.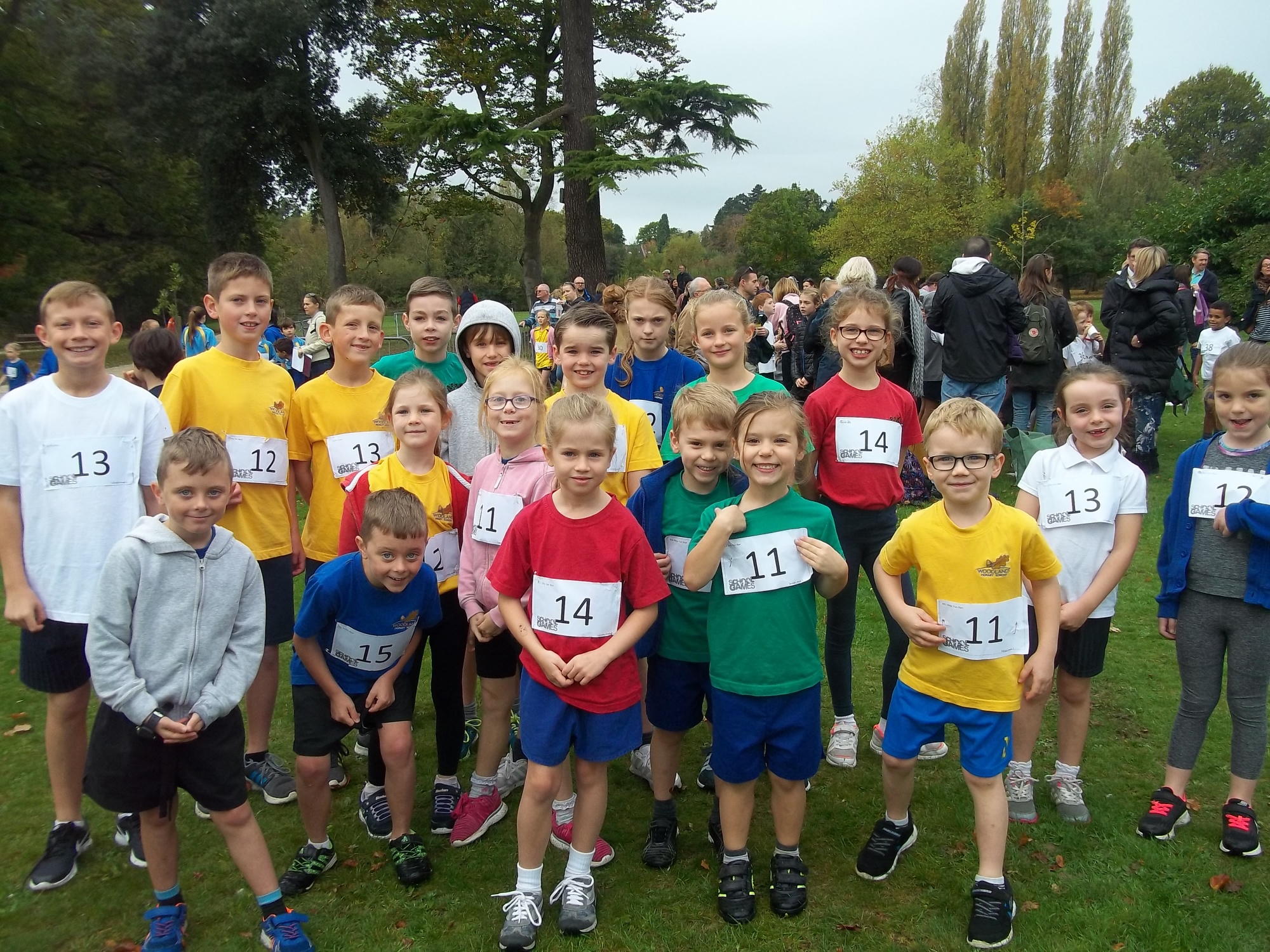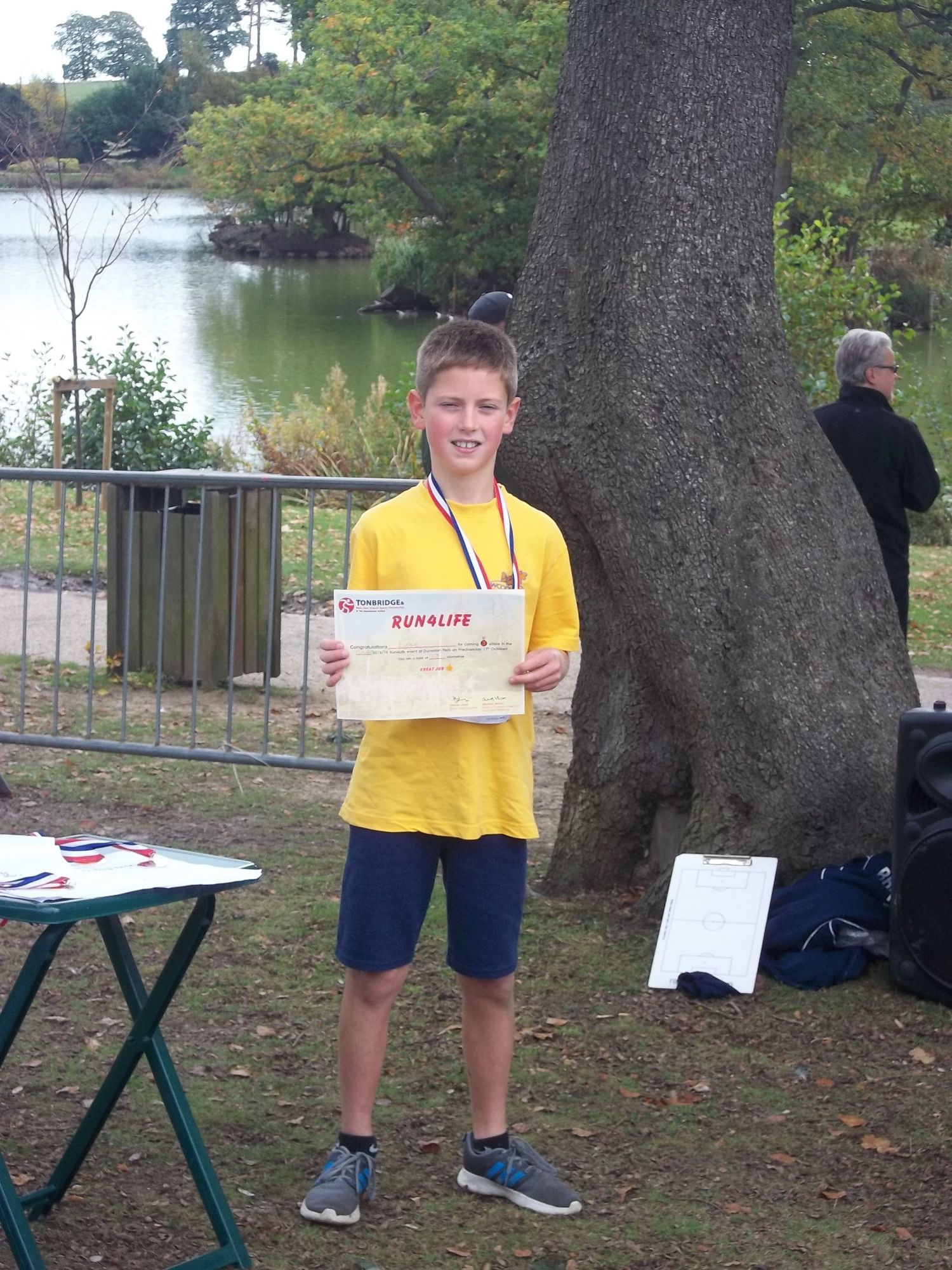 Tonbridge Mini Basketball Competition
Woodlands shine at the Kent School Games Basketball qualifying competition.
Well done to all the pupils that took part in the qualifying rounds of the Tonbridge District Kent School Games Basketball competition at Hayesbrook School. We had some superb performances from all the team coming 2nd in our pool, only narrowly being beaten by Hildenborough Primary with both teams qualifying for the semi-finals. The team produced some of their best basketball in the semi-finals against Leigh Primary school but narrowly missed reaching the final by one point despite some brilliant last minute passing and shooting in a very fast paced game. We then finished by playing Stock Green in the 3rd place play off and managed to win by a healthy margin to take 3rd position from 12 schools overall.
Well done to the whole team, Harrison, Reuben, Harley, Beau, Samuel, Maisey, Caitlin, Ryan and Ivy on a brilliant team performance.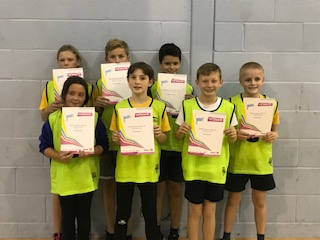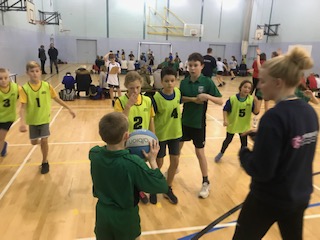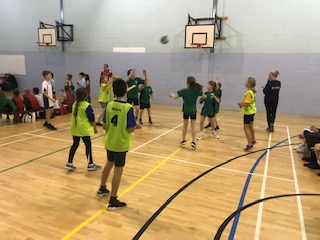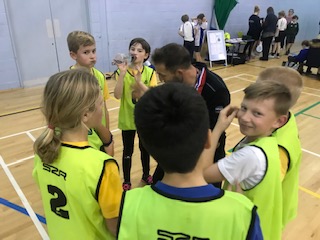 ALT Kent Junior Schools' Cross Country Championships
On Saturday 17th November 9 children took part in the event at the Kent County Show Ground in Detling. Over an undulating course, the pupils battled it out in races with over 200 runners competing. Woodlands pupils produced excellent results with one Year 4 pupil finishing a fantastic 24th place out of 206 children. WOW! Well done to everyone who took part.
Colour Dash
On Friday 20th April, 30 children took part in the Colour Dash event at Dunorlan Park, Tunbridge Wells. It really was one of the highlights so far this year, with over 300 children taking part - the park was filled with so much colour and so many smiles.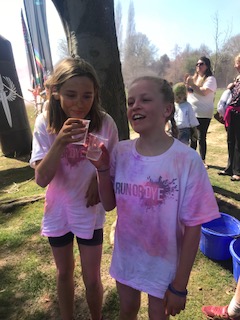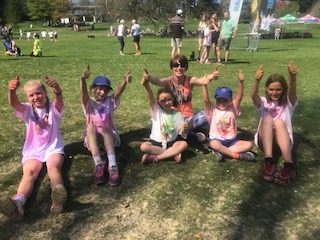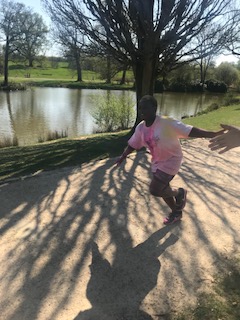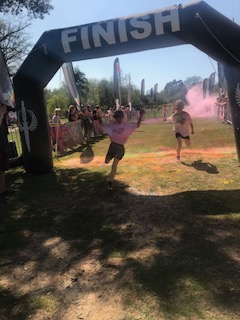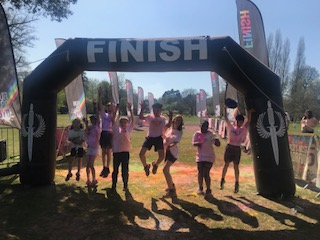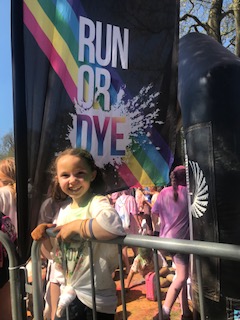 World Cup football tournament
On Friday 15th June, to celebrate the launch of the Fifa World Cup 2018 in Russia, Woodlands ran their own intra-school football tournament. Representing a country each, teams played 2 rounds of matches during the week, leading to the big finale on the Friday!
Sports Day 2019
Blue sky, sunshine and sun cream made for the perfect sports day. The children were beyond excited to be taking part in our greatest event of the year! They worked their way around a carousel of activities, shooting targets, bowling balls and jumping great distances, followed by class races to finish the morning. We had an overwhelming amount of support from families and friends, not forgetting our PTA who were on hand selling much needed water and ice pops!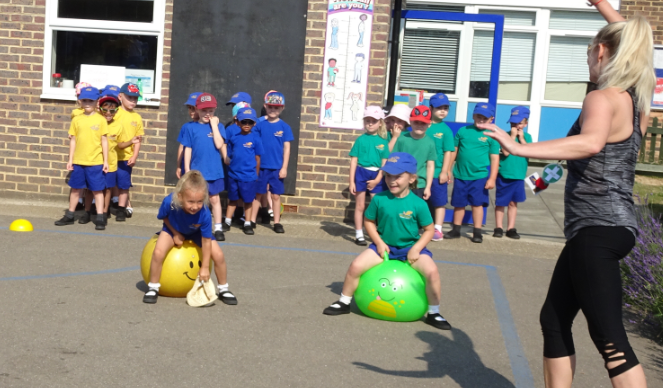 Our links with sports clubs in the community
Cowdrey Cricket club
Tonbridge Juddians Rugby Club
Tonbridge Angels Football Club
MSporti
Premier Sports
Further Information
See the attachments below.