Headteacher Home Project
This year, the theme of the projects will be 'The World Around Us'. The projects are open to any child in the school and are optional.
Autumn Term Project:
The county of Kent is known as the 'Garden of England' because of its natural beauty.
Take a photograph that represents the splendour of Kent.
Use techniques like the ones we have looked at (see powerpoint), to make your photo even more interesting. See if you can find other techniques through research or by trying out your ideas.
Try to capture the natural world – plants or animals – that Kent is known for.
Choose your favourite photograph and have it printed on gloss photograph paper in the size 5" x 7". Hand in to Mrs Lonie by the end of November.
There will be a display created from the best examples. ENJOY!!
Spring Term Project:
The children have been exploring aspects of Climate Change this year. We have been looking at the causes and impact, and looking at ways we can help.
Create a poster about Climate Change.
It could be to explain the causes, demonstrate the impact and/or to persuade others to take action. The poster can be hand-drawn or electronically created. Younger children may want to draw a picture and add a caption or copy and paste elements from the Internet. Older children can use the Internet to find good examples and develop these further. You may like to include useful website addresses, where the audience can find out more.
Here is an example from the WWF website: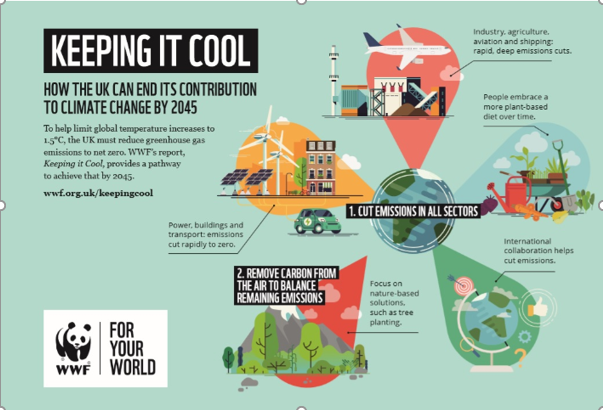 The posters will be displayed in school and the best entry will be sent out to parents to encourage action at home.
Posters must be given to Mrs Lonie by the Easter holidays. Please ensure your name and year group are on the back. You can choose the size of the poster. If you require A4 or A3 paper, please ask your teacher.